The other day, when I came to the factory tour, there was a presentation at a later date, so I received an invitation to see it, so I went to see it!
He made the "Sanwa Sangyo Forklift Newspaper" as shown in the photo and gave a presentation in the form of a question.
We are grateful to the elementary school students who visited us because such opportunities are not what we want.
While feeling pride and joy in our work again
I will continue to work harder to incorporate new things.
Thank you very much! !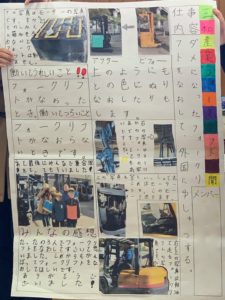 先日、工場見学に来てくれた際に後日プレゼンテーションがあるので見に来て下さいと招待状を頂きましたので見に行ってきました!
写真の様な「三和産業フォークリフト新聞」を作ってくれており質問形式でプレゼンテーションをしてくれました。
この様な機会は自分達で望んでもしてもらえる物ではありませんので訪問してくれた小学生に感謝をしています!
改めて自分達の仕事に誇りと喜びを感じながら
これからも新しい事を取り入れて益々頑張りたいと思います。
ありがとうございました!!